We blew our first-year goals of 50 walkers and raising $3,000 out of the water. With the help of our sponsors, volunteers, and over 200 registered walkers we raised $12,000!!! This means Lubbock Monterey AMBUCS will be able to provide AmTrykes to many more well-deserving children, adults, and veterans. Yay!!
During the event we also provided AmTrykes to four new recipients: 8-year-old Nohemi Rascon, 12-year-old Abigail Hernandez, local housewife Tanya Bryant, and Tim Stansell, an Army National Guard veteran, who is diabetic and has had above knee amputation. All recipients seemed to enjoy the opportunity to try out their new bikes.
All in attendance also had the chance to see two of our past AmTryke recipients, Kelly Flemming, a 37-year-old local mom, and Jack Durbin, a 93-year-old WWII veteran. Kelly and Mr. Durbin rode their AmTrykes that they previously received from Lubbock Monterey AMBUCS.
A big part of our fundraising was a special effort by the Texas Tech University's School of Allied Health Services. Their new dean Lori Rice-Spearman, along with Associate Dean Lindsay Johnson, helped sign up over 50 walkers from the school's faculty and students – and raised extra donations above and beyond walker registrations. They presented our club with a $1,900 check at our club luncheon on May 2.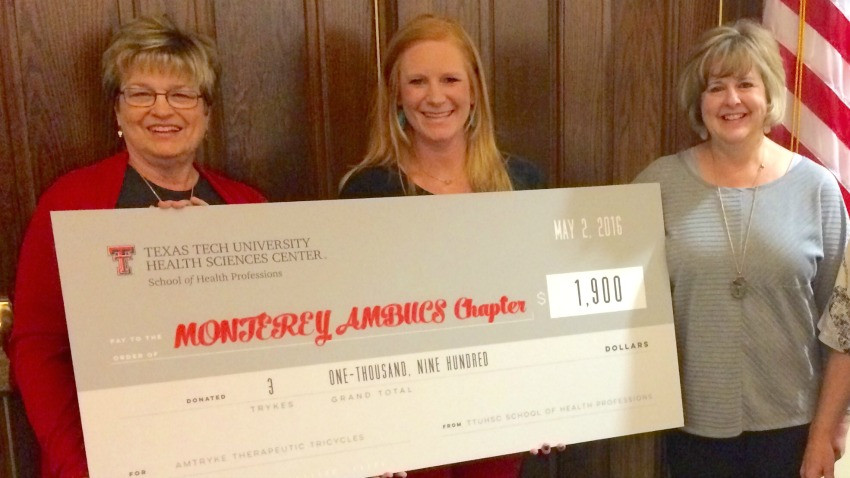 Each walker paid $30 for the opportunity to walk around the Llano Estacado Winery and sample 5 different wines on Saturday, April 16. Participants also enjoyed beef and pork sandwiches from local restaurant Chopped and Sliced BBQ's on-site food truck. We even had live entertainment from local musician, Mike Pritchard.
An added bonus for our event was the participation of several of the area Miss America Pageant participants, some of whom had recently been speakers at some of our regular Monday luncheons. They were very popular with the crowd, especially the younger walkers.
Top left photo from left to right: Miss Lubbock County, Lenzi Booker, Miss Lubbock's Outstanding Teen, Brooklyn Meeks, Miss Lubbock, Sydney Webster, Miss Brownfield's Outstanding Teen, Braylee Dufour, Miss Brownfield, Ashton Meeks
Under the leadership of Patty Vannoy, immediate Past President of the National AMBUCS organization, and a long-time member of Lubbock Monterey AMBUCS, our first annual Trek 4 Trykes went off without a hitch and we raised over four times our original goal. We are grateful to all of our volunteers that helped with planning, setup, cleanup, registration, and stuffing goodie bags.
All week prior to the event, the weather forecast was for rain and storms, but the day turned out to be beautiful, and the Lubbock Monterey AMBUCS club is already looking forward to next year's West Texas Wine Walk. We hope to far surpass the success of this year's Walk, and make this event one that Lubbock-area residents will look forward to each year.
A special thank you to all of our sponsors: Pavecon LTD, BrightStar Care, Gerald and Rhonda Dion, Thermo Dynamic Insulation, Brandon & Clark Inc, Centennial Bank, Windmill Financial Services, Barricades Unlimited, Culligan Water Conditioning, Llano Estacado Winery, and Texas Tech University's School of Allied Health Services.
Lubbock Monterey AMBUCS is a network of local business professionals who believe everyone deserves to experience the fun and freedom of riding a bike. That's why over the last 25 years we have built and donated hundreds of therapist-recommended AmTrykes to children, adults, and veterans with mobility impairments.
If you would like to help us provide even more AmTrykes to those in need, please consider making a donation. If you are interested in joining our club as a member, you can learn more on our Join Us page.