On June 6 and 7, Lubbock Monterey AMBUCS held our second annual Vuelta del Llano Bike Race, the new fundraiser that was initiated by our club last year as another way to provide Therapy Scholarships, Ramps, and Amtrykes in addition to our long-standing Fair Restaurant.
The two-day event drew participants from all over the state, with 26 Texas cities represented. There were also riders from 3 New Mexico cities, and even one from Shreveport, Louisiana. Out of the 75 registered participants (double last year's registrations), we had 2 women racers, and in all, the riders were registered in 32 different racing categories.
The response from everyone was tremendous, with many of the folks who race regularly, saying this was one of the best-organized, and toughest courses they had ridden. Most of those coming to Lubbock for the first time are expecting wide expanses of flat lands, and are pleasantly surprised at the beautiful and challenging courses provided by the Buffalo Lakes and Ransom Canyon area.
This was the location of the Time Trials held on Saturday morning and the Road Races held Sunday morning. The Criterium, a fast-paced, shorter-course race, was held on Saturday afternoon at the Lubbock Business Park, a perfect location that provides a great combination of curves and straightaways for these need-for-speed cyclists.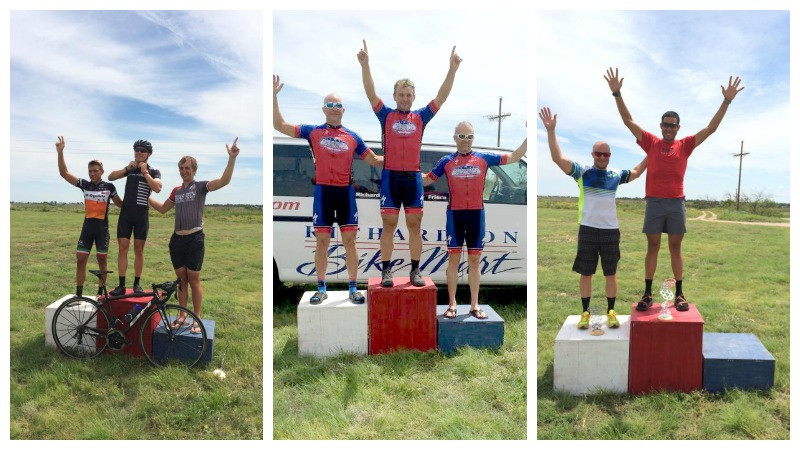 While only in its infancy, Vuelta del Llano Bike Race is expected to continue growing and drawing even more competitors each year. One of the official USA Cycling judges in town to help run the event said he believes the event can easily grow to 250 riders in a relatively short period of time, and that means one very important thing – more Scholarships, Ramps, and Amtrykes for those who need them.
Special thanks to all the club members who donated their time, the most priceless commodity that a civic club has, in the effort to once again fulfill our AMBUCS mission of providing mobility and independence to persons with disabilities.
If you'd like to join us in this mission, we'd love to have you come along side us. Just stop by most Mondays at noon at the McKenzie/Merkett Alumni Center on the Tech campus and join us for lunch and get a better idea of what's involved in being a Lubbock Monterey AMBUC. See our upcoming schedule on our homepage.