Each year in February the West Texas Region of AMBUCS has a luncheon at the McInturff Center of University Medical Center to honor the Therapy Students of the newly renamed School of Health Professions (formerly School of Allied Health). Below you can see our Montery AMBUCS President Don Lynn, along with club member, Bobby Sanders greeting one of the dozens of therapy students who attended the luncheon.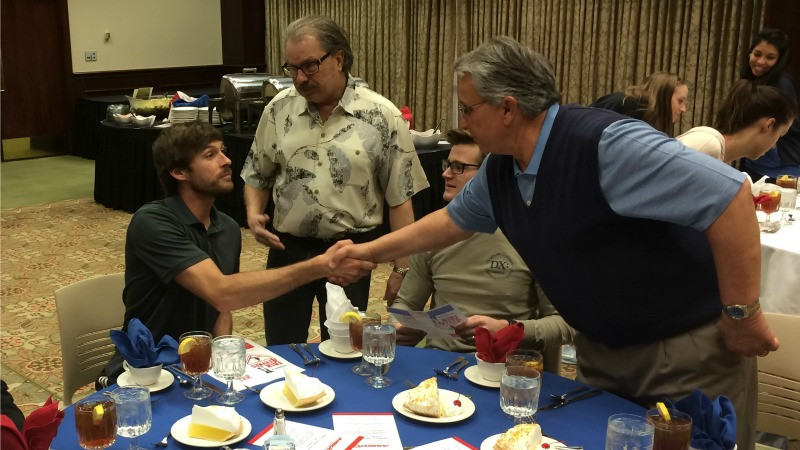 And below is Monterey AMBUCS Chaplain Bill Wrench with four first-year Occupational Therapy (OT) students who attended the luncheon. One was from Wichita, Kansas, one from Denver, Colorado, one from Midland, Texas, and one from just down the road in Idalou, which shows the tremendous reach of the UMC program.
Bill said they were pretty much unaware of what AMBUCS was and did, so the luncheon is a great opportunity to introduce our program to the students who will have an opprtunity to apply for the hundreds of thousands of dollars in Scholarship funding that is awarded by National AMBUCS each year. It's also a great time to get a great meal of King Ranch Chicken Casserole and all the extras.
City Councilwoman Latrelle Joy read a proclamation from the Lubbock City Council, recognizing the outstanding work done by AMBUCS and designating February as AMBUCS Month in Lubbock.
We were also honored to have our new National President, Al Biddell, present, who shared that (with the exception of giving away Amtrykes) his most rewarding activity in his years with AMBUCS was when he served on the National Scholarship Committee with our very own Monterey Member, and current Past National President, Patty Vannoy. Al said there are currently over 5000 AMBUC Members nationwide, from 140 chapters in 30 states, and that AMBUCS is one of the few civic organizations that is growing in membership.
One of the reasons that this growth continues is the immediate imapct that folks can see from the efforts they put forth. Al reminded us that a new Amtryke takes 3 years from development to construction and that each bike is specifically built for each recipient and that we do not give a bike without an evaluation by a therapist. He told the Therapy Students in attendance that his hope is that as they graduate and move out into their careers that they will often think to themselves, "If this child I'm working with only had a bike – OH YEAH – AMBUCS!!"
That's why many of the students shown above were given their first introduction to our programs of AmTrykes and Scholarships, and why we hope that over the next several years, as many of them help with our Fair Restaurant, the Caprock Basketball Tournament and the ABC Rodeo that they will become even more aware of the possibilities of what AMBUCS offers. The students also got to hear from one of our newest allies, Dr. Lori Rice-Spearman, the new Dean of the newly named School of Helath Professions, who was welcomed by Patty Vannoy.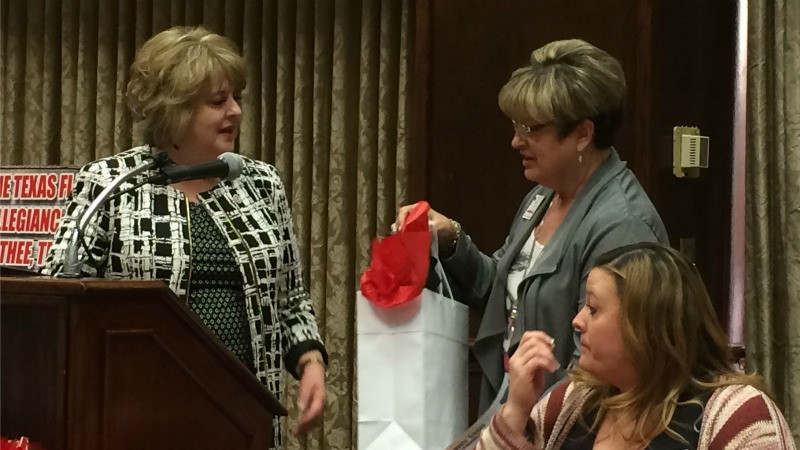 Dr. Rice-Spearman reminded us that the School of Allied Health began 28 years ago and served only 108 students, and that this past year AMBUCS nationally provided $201,000 in Scholarships to 261 students (over 2000 applied), and that 90 (over 1/3) of those students were from Texas, and the majority of those (proportionately) were from Texas Tech. Since it's inception in 1955, the initial $15,000 scholarship program has provided over $8.5 million in Scholarships. We were also reminded that the primary hope of the Scholarship Program is to Pay It Forward – that one student receiving a scholarship will eventually see 1000's of patients who could use an Amtryke.
As shown above, to highlifght the AmTryke component of our program, a new Vet Bike was presented to Kevin Ray, accompanied by his wife Beverly. Kevin served in the Navy for 23 years, post-Vietnam on an aircraft carrier. Kevin was obviously excited about his new bike and is "looking forward to being able to "ride with his grandkids".
The luncheon was again a great remider that it's such an honor to be able to provide both Scholarships and AmTrykes, and our hope is that we can share our opportunity with even more of our friends and neighbors in the coming years through both our existing fund raiser of the South Plains Fair Restaurant and our newest initiative of the Trek4Trykes.