Nahemi Rascon was referred to Lubbock Monterey Chapter of AMBUCS, by Channing Stewart, a physical therapist from Trust Point Rehabilitation Hospital. Nahemi is a vivacious 14-year-old young lady who has a great supportive family.
This was Nahemi's fitting day with her AMTRYKE. She was so excited and looking forward to her AMTRYKE presentation at SummerFest.
Nahemi was born with spina bifida, leaving her lower extremities in a weakened condition. Nahemi is an unbelievable young lady who has a determination and dream of being a Cosmetologist. Because of Nahemi's determination and the ability to give 100% of herself in anything she does, she has learned to set goals and achieve those goals, whether it is in her therapy sessions, her daily activities, or her life-long dreams.
In addition, the Lubbock Monterey Chapter of AMBUCS has been by Nahemi's side a big part of her life, as this chapter of AMBUCS has previously given her two AMTRYKES. You see, we care about Nahemi…we care about being by her side as she journeys through her therapy program…and in her goal to one day being able to walk.
She can continue her journey in obtaining her goals while having fun riding her AMTRYKE. Her AMTRYKE will continue in her muscular strengthening and improving coordination while having fun and socializing just like the rest of the kids.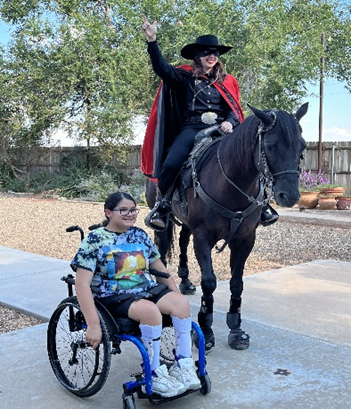 Nahemi at the Lubbock Monterey AMBUCS SummerFest Fund Raising Event with the Masked Rider. This is later in the evening after she received her AMTRYKE.
Nahemi received her AMTRYKE at no cost, because of a generous sponsor, Ashton Walden Turf Services. As you can see, it takes many people from the Lubbock Community for an AMTRYKE recipient to receive their much-needed therapeutic tryke. To become involved in the Lubbock Monterey Chapter of AMBUCS, you can DONATE NOW or become a SPONSOR. Come on out and JOIN US at our luncheon meetings and see what we are all about. We are the Lubbock Monterey Chapter of AMBUCS: Proud of our past…Engaged in our present…and, excited about our future. As it was in 1960…and as it still is today…We stand Shoulders Together!!