It's always fun to gather at the Party Barn of Rollo and Cindy Gurss, but even more so when it's to celebrate this special time of the year with our fellow Monterey AMBUCS members and their significant others.
There are lots of different rooms in the Party Barn, each decorated in a fun way; with plenty of space for a lot of smaller gatherings where folks can share stories of the past year as we look forward to a new one.
And of course, if we get together for a Social, there's going to be lots of great food. We had more than enough goodies to go around, with a tremendous buffet catered by the Cheese Food Truck from Market Street, and lots of yummy desserts brought by members.
Everyone brought a gift for the Chinese Christmas Gift Exchange, and you can see the wide ranging sizes and shapes as they were all stacked on the Party Barn pool table – ready to be "fought over"
Our President, Anthony Brocato (below left), welcomed everyone before the mayhem of gift selection began, and reminded us all of the great work that our club has done this past year toward accomplishing our mission of providing mobility and independence for people with disabilities.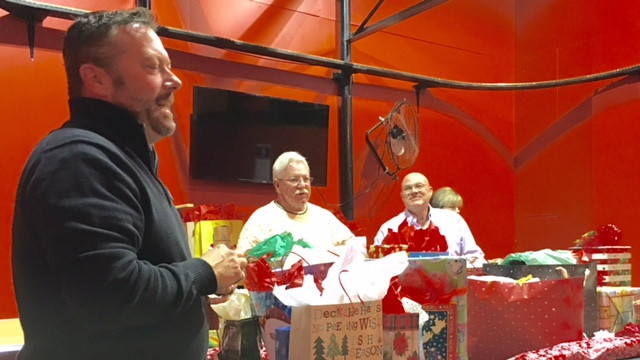 The initial selection from the pile of gifts was made by Patty Hamilton (below right), with assistance from one of Santa's elves, Patty Vannoy. Patty H's joy over her gift selection was short-lived though, because number 2 in line immediately stole it. I think she made it back to the table at least three more times as each of her gifts was quickly stolen by someone else. She really knows how to pick them!!
From there it was Kadee (as in Harcrow) bar the door, as gifts were selected with care, then stolen with abandon, and then re-stolen till the last one was gone. And the last one was Kadee Harcrow stealing my shot ski in return for the wonderful bottle of Stella Rosa Peach Wine that she is seen holding below – thanks Kadee.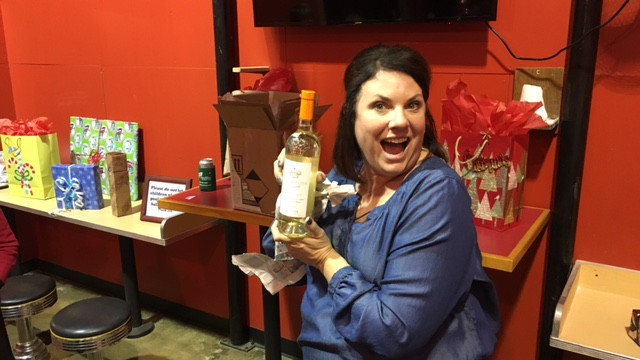 And a special thanks to our Social Committee, and once again especially to Rollo and Cindy Gurss for always being great hosts. It's amazing how they can get all of this ready, and still be relaxed enough to join in the fun. It's a good thing we had the party early in December, because Cindy (below) could certainly use her "gift" while hosting other Christmas parties.
As always, the Annual Christmas Party was a great way to put a special exclamation point on 2016, and to relax and get ready to head into 2017.