AmTryke Recipient: Michael Melton
• November 22, 2021
amtryke recipients
people weve helped
On November 22, 2021, Michael Melton received his AMTRYKE at the Monday Luncheon Meeting of the Lubbock Monterey Chapter of AMBUCS. Michael's Occupational Therapist, Stefani Masten, from Our Children's House in Dallas, referred him for the AMTRYKE. Michael is a happy boy who loves to go on walks in his wheelchair. Stefani believed an AMTRYKE would allow Michael to participate with his mon, twin brother and cousin. Stefani reported Michael uses an AMTRYKE in therapy and absolutely loves it. He has been working on riding it during therapy and seems to really enjoy it while it assists in coordination.
In the above photo, (L-->R) Gary McDonald and Jim Anderson, Co-chairs, Stewart Townsen and Faisal Zeitouni, sponsors, Jackson's Mom, Julie Melton, Jackson, and Stephanie Fahrenbruch (nurse). Jim Anderson, our AMTRYKE Care Giver, performed a turn-key job in bringing Michael's AMTRYKE to a "like new" condition. A grant from The Community Foundation of West Texas, will reimburse us for the parts expense in refurbishing this AMTRYKE. As you can see, there are many people involved, for our Chapter to give an AMTRYKE to a deserving recipient like Michael. We have great gratitude and thanks to all those responsible in this process....Thank you so much!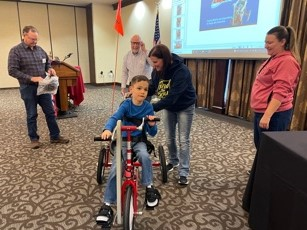 HAPPY TRAILS MICHAEL!!