What a great way to wrap up 2016 – by inviting our significant others to join us for our last regular Monday luncheon of the year. Most of the significant others were simply wives or husbands like the couples below.
But some folks also brought extended family, like Member David Brenholtz and his wife JoBeth who brought their grandson Connor.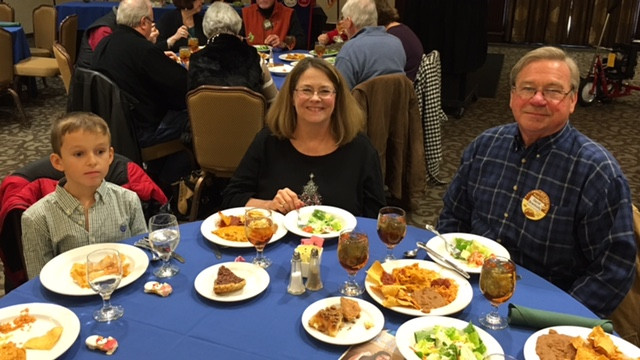 Or Member Bill Wrench, and his wife Karen, who brought Karen's mom Ginny Horn and a special guest, Mackenzie Bolton, an 8th Grade Student at New Home ISD. Mackenzie has written an article for the Winter 2016 edition of the Lubbock Senior Link magazine (see copies on table below), highlighting Ginny as one of the many "Rosie the Riveters" who served our country during WWII. You'll be blessed if you take the time to find a copy and read the article or read it online: Read Article.
We were treated to a scrumptious King Ranch Chicken casserole dinner, complete with beans and rice, salad, and chips, all topped off with either apple crumble or pecan pie for dessert – including whipped cream and melted caramel. Trust me – no one went hungry.
Due to an illness in his family, we missed out on meeting our newest AmTryke recipient, Nathaniel Hernandez, who is 7 years old. His therapist is Christie Robinett with LISD, and this is Nathaniel's second AmTryke, since he's outgrown his first one. Hopefully, we can have pictures and more info on Nathaniel in a future Newsletter.
Fortunately, though, we did not miss out on the special presentation by the Prairie Winds Chorus, the local branch of the Sweet Adelines singing groups. These highly energetic ladies presented a tremendous selection of traditional and somewhat non-traditional Christmas songs, which helped to put everyone in the Christmas mood, as you can witness by playing the video below.